Tutorial Quests
A step-by-step description of the tutorial quests will be here, together with tips on how to start the game right.

For the main quests, go to Story Quests.
Watch for new quests (

) and completed quests (

) in the top-right corner of the screen.
Also watch out for new stat points (

) and new survival points (

), likewise in the top-right corner of the screen.
Vile demons abound in these dark woods.
You must defend yourself!
Pick a direction and start walking
Pick up everything that can be picked up (rmb)
The world wraps around, so you'll eventually end up where you started

Strategy
Eat food with right mouse button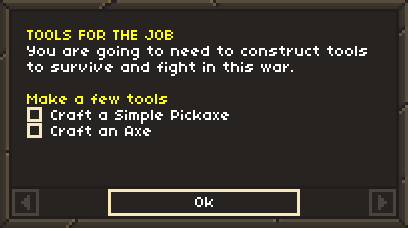 Strategy
Craft the tools from the crafting panel ("p")

Strategy
Note: Resistances only affects how likely you are to get DOTed. It is NOT a damage reduction.
(DOT = damage over time, e.g. being on fire, being frozen etc.)

Strategy
Place the potion to your active hotbar (on the left) and press the hotkey to use it.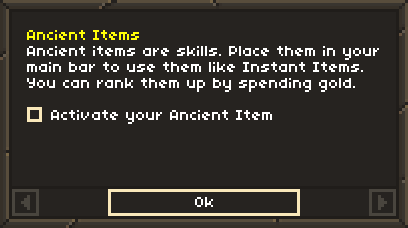 Strategy
Place the ancient item to your ancient items hotbar (on the right) and press the hotkey to use it.

Strategy
Make sure you stand close to the  Campfire to be able to cook the food.
Upon closing the quest window for this quest, you learn the recipes to:

 Torch ,
 Ladder-step platform ,
 Iron Bar , Work Stations and some blocks.

Strategy
The  Planter box can only be placed on an even terrain. Make sure there are no things in the way. A green outline indicates that you can build the planter box in that place
Pick the planter box item and move it over to the world to place it
Your survival rank will increase the amount of feed that crops and cooked food provide. So, it is important to work on it.
You can read more about the Survival panel here

Strategy
Recipe for the  Homestone
Commander Vile always drops a random weapon on death, proportional in strength to the player's level
Experience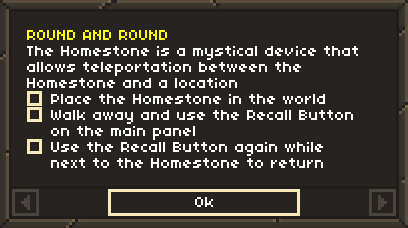 Strategy
The default key for Recalling (teleporting to the  Homestone ) is "T"
To teleport back to where you were (teleporting from the  Homestone ) use "E" while standing near it
Softcore: Before a difficult encounter (for example a boss fight), it's a good idea to recall once first to set your teleport location to that place. This way, if you die, you can quickly return there, saving a lot of time
Events have quests and they will be added here.